Explaining Retransmission Fees:
Milford Communications has contracts with local television stations that enable us to carry ABC, CBS, NBC and Fox stations on our cable network. The price agreements are renegotiated every 3 years, and detail how much these broadcasters charge us to carry their channel, these charges are called "retransmission fees." These rates change on an annual basis, which will once again happen on January 1, 2020. Retransmission fees come from a decades-old federal law that allows local broadcast stations charge cable and satellite companies, such as Milford Communications, to carry their programming on our channel lineup.
---
November 4 Update
NEXSTAR AND MILFORD COMMUNICATIONS CONTINUE UNDER EXTENSION
Milford Communications and Nexstar Media Group are still operating under an extension to the current agreement. We do not believe there will be any loss of programming at this time.
November 3 Update
NEXSTAR GRANTS PROGRAMMING EXTENSION
Milford Communications has just been notified that Nexstar has granted a programming extension until November 4. This means that negotiations will continue until November 4, and programming will remain as normal until then. There are three scenarios that could happen on November 4:
Milford Communications and Nexstar come to an agreement and programming continues as normal
Nexstar feels that a compromise is close and grants another extension on the current contract (beyond November 4) so we can continue to show KCAU and KELO programming in the meantime
Nexstar refuses to compromise in any way and forces us to remove KCAU and KELO programming at 12:01 on November 5.
We hope that an agreement is reached by November 4 and programming will continue as normal, but we also want to make sure that the agreement is fair so we can, in turn, keep customer rates as low as possible.
If KCAU and KELO are temporarily removed from our channel lineup, there is an option to stream these channels via an app called Locast, available for smartphones, streaming devices and web browsers. The app is free, although Locast does request of a small donation. Find out more at https://www.locast.org.
*** Note that Locast uses your location, so will get either Sioux Falls channels or Sioux City channels depending on where you live. Unfortunately, you don't get to choose, but you will still get CBS and ABC programming.
October 28 Update
NEXSTAR MEDIA GROUP CONTINUES TO ASK FOR EXORBITANT INCREASES
Milford Communications continues negotiations with Nexstar Media Group over new retransmission rates for KCAU and KELO. So far, negotiations have not been progressing and it appears unlikely Milford Communications and Nexstar will come to an agreement before October 31.
If an agreement isn't reached, Nexstar may require Milford Communications to remove KCAU and KELO programming until a new agreement is reached, at which point programming will resume.
We want to stress that this will not be a permanent removal; it is Milford Communication's intention to keep KELO and KCAU in our channel lineup.
We recently sent a letter to all of our Cable TV customers regarding this issue, you can read a copy of the letter here >
October 15 Update
This year, Milford Communications is facing renegotiations with several local broadcasters. One agreement is set to expire on October 31 and the rest will expire on December 31. So far, the broadcasters have been asking for exorbitant price increases and negotiations have not been progressing.
If a fair agreement has not been reached by the end of October, we want to warn our customers that there is the potential that KCAU and KELO programming may be temporarily removed from our channel lineup until an agreement is reached, at which point programming will resume. Premier is fighting for you to keep rates as low as possible.
---
The Cost:
The irony isn't lost on us. If you have an antenna, you can probably access some of your local stations (ABC, CBS, FOX and NBC) for free if the broadcast signal is strong enough. You are paying for "free" TV. This isn't fair! You, the customer, are being forced to shoulder the cost of local TV.
An important Note: Because of the extreme fluctuation in retransmission fees, particularly in the last several years, retransmission fees are calculated similarly to taxes, in that, they are charged outside of the bundle or Cable TV package prices. Milford Communications does not keep or profit from these fees, they are sent directly back to the broadcasters.
You Aren't Alone:
This problem isn't limited to Milford Communications, other Cable and Satellite providers that have local channels on their lineups are facing the exact same issues.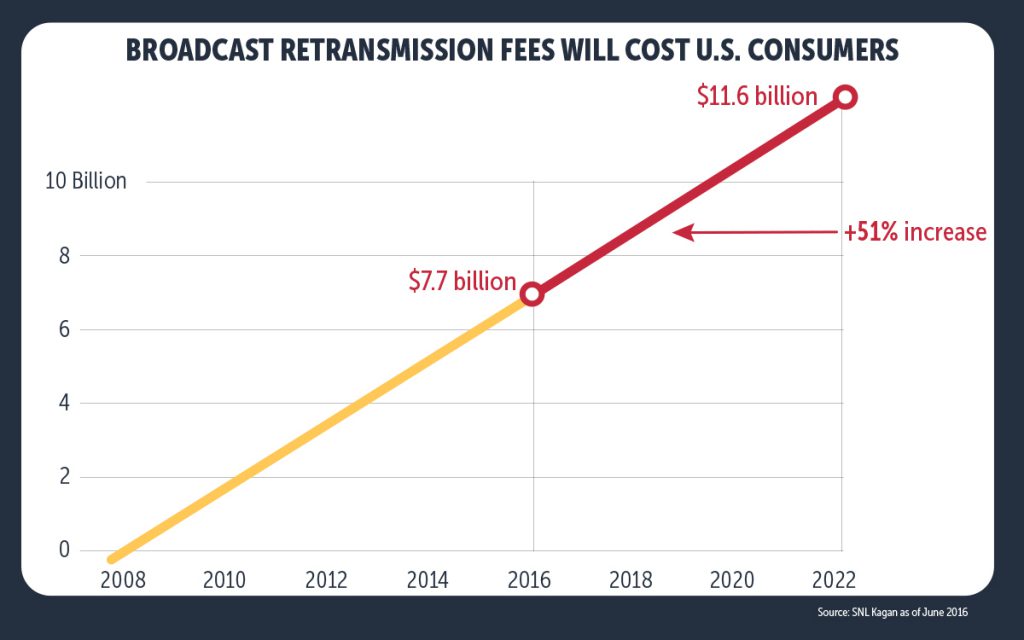 American Cable Association – Broadcast Retransmission Fees will Cost U.S. Consumers
Milford Communications is taking Action:
In an attempt to increase our negotiating leverage, Milford Communications participates in a bargaining group of more than 600 video providers from across the country. This entity also has professional lobbyists and PACs that work on the federal level to change laws. Milford Communications and our negotiating group has spent several years attempting to negotiate with broadcasters and reverse the laws that allow broadcasters to charge Cable providers to carry their channels. We had hoped to come to a reasonable compromise. Unfortunately, these broadcasters are shielded behind huge companies, and can hold their content and channels ransom for outrageous fees. The money made from retransmission fees also is a growing source of income for corporate broadcasters.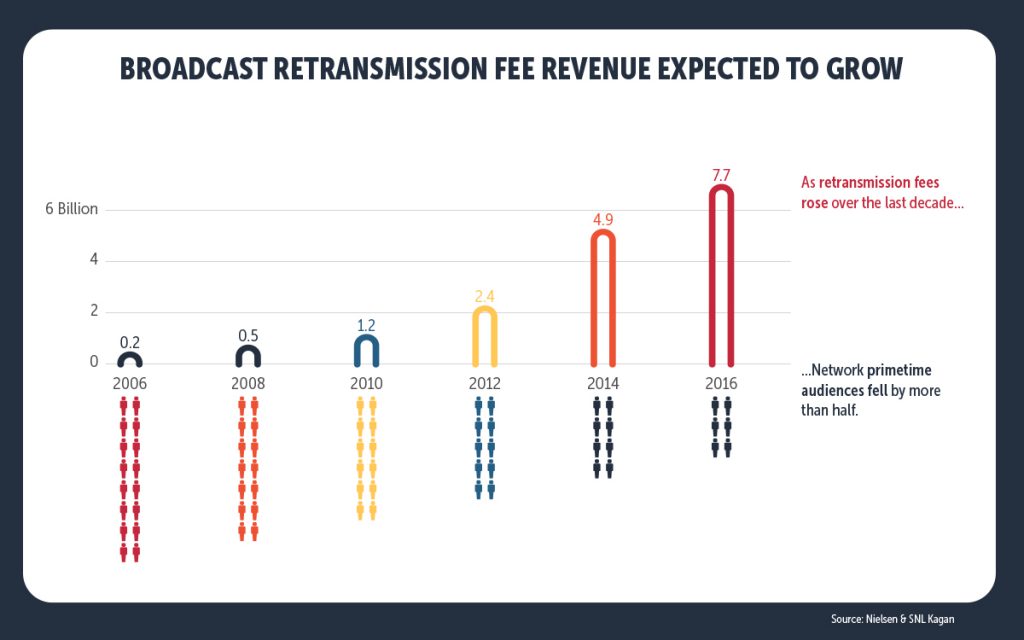 American Cable Association – Broadcast Fees Go Up While Network Audiences Go Down
The Alternative:
The alternative to paying retransmission fees is Milford Communications would not be able to carry any of the local channels (NBC, CBS, ABC and Fox). If we stop paying, the broadcasters take their channel away.
It's Not Fair:
You, the customer, are being forced to shoulder the cost of local TV and provide a source of income to the broadcast stations. We strive to keep prices as low as possible. But we can't control how much we are all forced to pay to carry local TV stations. In fact, these TV station fees have grown thirty times over the last decade.
Take Action!
You can help by writing to your congress members. Ask them to update our TV rules by supporting "local choice" – the ability for viewers to see how much local TV channels cost and decide for themselves which ones they want to pay for.
We strive to reach fair agreements with broadcasters that allow access to the TV programs you have come to love and expect to watch – with the goal of reducing the threat of blackouts or unreasonable monthly fees. Please stand with us as we fight for you.
More Information
For additional information on retransmission fees and case studies from other companies visit www.tvonmyside.com. TVonMySide is a collaborative effort of hundreds of local, independent Cable TV providers located throughout the country in communities like yours. By uniting our companies, we can work together to achieve more flexibility and better cable TV offerings for you at the lowest price possible.
Frequently Asked Questions
What are retransmission fees?

The fees that local broadcast stations charge cable and satellite customers to show their programming. If you watch local broadcast channels "over the air" with an antenna, the programming is free. But the broadcasters charge cable and satellite providers, such as Milford Communications, and their customers, such as you, to "retransmit" those same channels. You are paying for supposedly "free" TV.

Why are we talking about retransmission fees so much right now?

Local broadcast stations such as ABC, CBS, etc. are using the popularity of their channels as leverage to push the programming fees they charge local service providers (such as Milford Communications and other cable and satellite companies) high and higher.

How much are retransmission fees going up?

It appears that most bills will increase between $5.00 – $6.00.

How does this affect my monthly bill?

Because these fees are not included in bundle or service prices, your bill will increase after Jan. 1, 2019. Retransmission fees are treated similar to state taxes that you pay for gas. Even if you are in a two-year contract, your bill will go up. Only the price of the bundle is fixed for two years. Milford Communications has very little control over these types of taxes and fees passed through to our customers.

What is the alternative to paying retransmission fees?

Milford Communications would need to completely drop the local Sioux Falls and Sioux City channels. Based on feedback we receive, local channels are very important to the majority of our customers so dropping local channels is really not an option at this time. Switching providers will not help; all cable and satellite companies are forced to pay retransmission fees, they may include in their service prices or charge on top as Milford Communications does, but either way, you are paying these fees.

What is Milford Communications doing about retransmission fees?

We are doing our best to negotiate on our customers' behalf. We are a part of several organizations of local and national cable providers, all of whom are trying to reverse the laws that require retransmission fees.

SaveSave
SaveSaveSaveSaveSaveSave
SaveSave
SaveSaveSaveSave
SaveSave
SaveSave